Event: 2023 U15 Boy's & Girl's National Tournament
Location: Morshead Park (Ballarat Regional Soccer Facility), Ballarat Victoria
Address: 910 Pleasant St S, Ballarat Central VIC 3350
Dates: Wed, 27 September 2023 9:00am to Tues, 3 October 2023 5:30pm
Entry: Please note that upon entry across Wed 27 Sep – Mon 2 Oct, patrons are kindly asked for a gold coin donation. While on Day 7 (Tue 3 Oct) a gate entry free of $5 will apply for people over the age of 15 years old. This will not apply for teams, officials and volunteers. Tap & Go services will be available. A pass-out system will be in place for re-entry on the same day.
Parking: Limited free parking will be available onsite via Pleasant St on a first come first serve basis, Further on-street parking should be available at most neighbouring streets of the facility.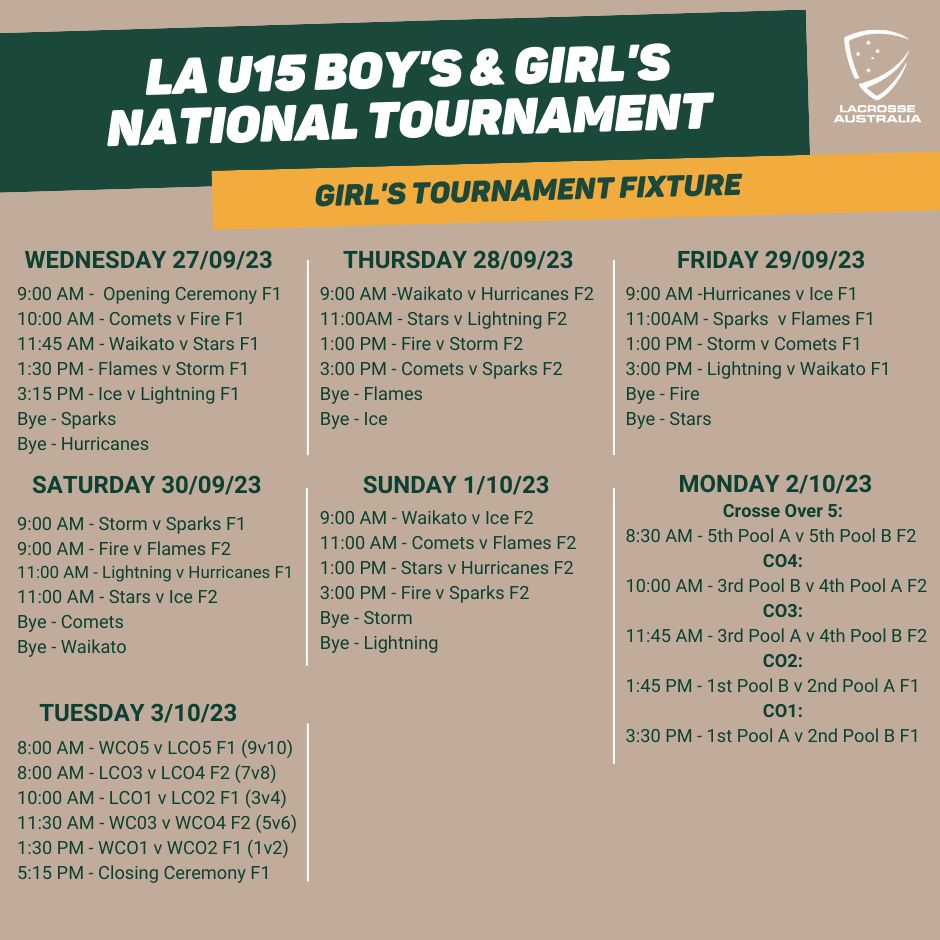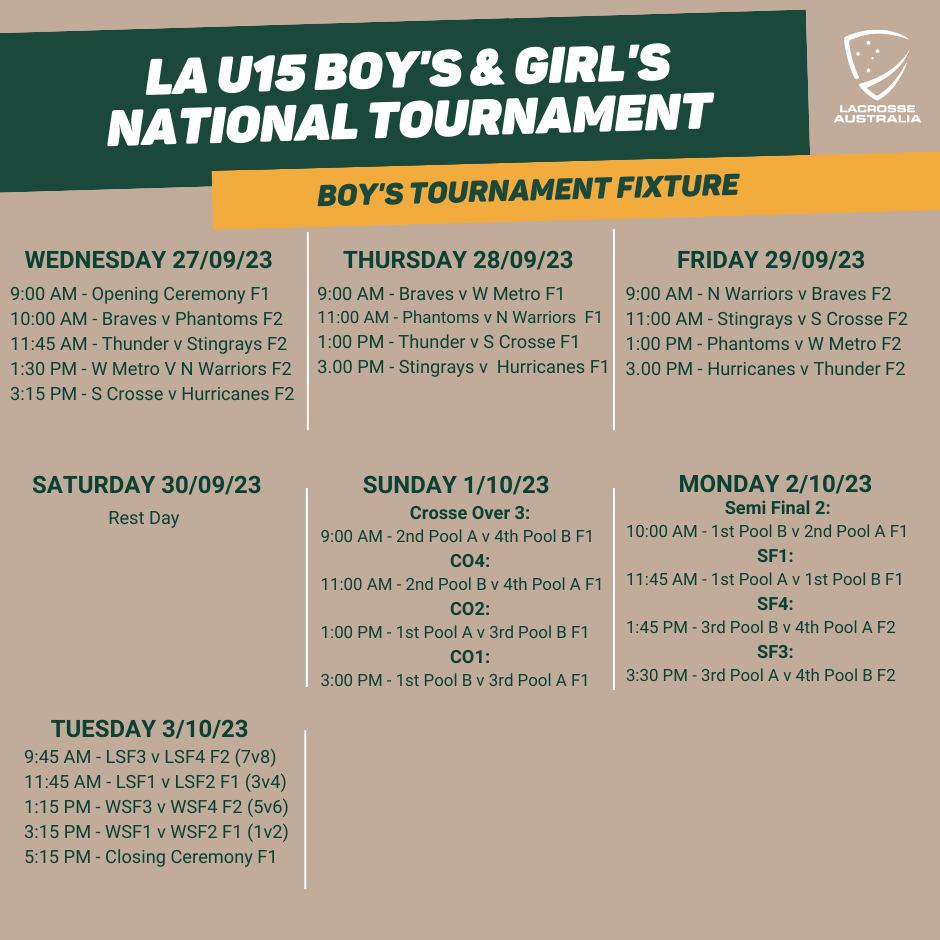 The Australian Lacrosse Network will be live streaming the Boys & Girls U15 Semi Finals next Monday and the Championship Final's and 3rd Place Games next Tuesday.
In addition to our usual broadcasting, and we have done at other Tournaments, the ALN may be able to run our basic setup from Wednesday to Sunday from Field 1. However, in order to make this work, we require volunteers to operate the camera.
No experience necessary and we will set up the stream, you just need to move the camera and update the scoreboard. 
As a means of paying it forward, we encourage those in attendance to volunteer to do games that they won't be watching. If our supporters are able to live stream games in which they won't have any involvement, we hope that across all teams, we will be able to cover all games to ensure that those back at home can see their teams play. This will also free up our volunteers to watch their own games. 
As we will be streaming from Field 1, here is the schedule of "lite" games:
Wednesday (Girls)
10am – Comets v Fire
11.45am Waikato v Stars
1.30pm – Flames v Storm
3.15pm – Ice v Lightning
Thursday (Boys)
9.00am – Braves v Metro
11.00am – Phantoms v Warriors
1.00pm – Thunder v Crosse
3.00pm – Stingrays v Hurricanes
Friday (Girls)
9.00am – Hurricanes v Ice
11.00am – Sparks v Flames
1.00pm – Storm v Comets
3.00pm – Lightning v Waikato
Saturday (Girls)
9.00am – Storm v Sparks
11.00am – Lightning v Hurricanes
Sunday (Boys)
To Be Confirmed
If you can assist, please direct message us, email scott@aln.au or contact Scott on 0412 072 806.  We would be grateful if you could help us, help grow the game!
Games on Field 1 from Wednesday through until Sunday will be streamed via the Lacrosse Australia Facebook page, while Monday and Tuesday games will be streamed via the Australian Lacrosse Network Facebook and Youtube pages.
Please be very careful not to follow any links posted to live streams in the comments of ALN and Lacrosse Australia social media posts – these posts have been targeted by scammers at recent tournaments.  Our live streams are free to watch on all platforms, if you are being asked for payment or taken to a site that isn't Youtube or Facebook, then you most likely have followed a scammers link.
Links to photographer's at the tournament along with any galleries posted will be linked to here, so keep checking back throughout the week.